Bio-D celebrates 30th anniversary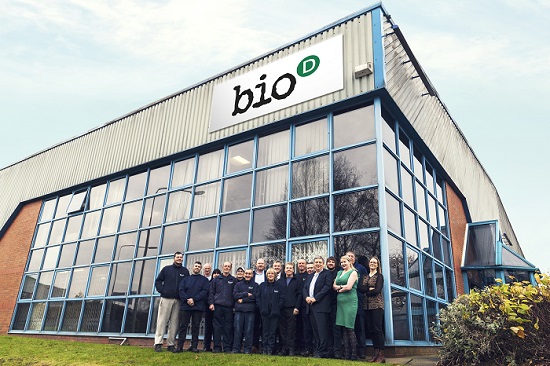 Promotion
Green cleaning company, Bio-D, is marking three decades in business.
The company, based in Hull, has been at the forefront of environmental innovation for the last 30 years. Since launching in 1989, its products have always been manufactured in Hull and are sold by selected independents, Oxfam stores, and online.
Managing Director, Lloyd Atkin, joined Bio-D in 1997 and took over from founder, Michael Barwell, when Michael retired in 2010.
Lloyd commented: "Bio-D was born after Michael realised that many of the ingredients found in the industrial products he used in his job cleaning commercial ships were also in household cleaning products. He was shocked as the industrial cleaners he used at work required heavy-duty safety equipment, including a respirator, to be worn.
"He decided to look for naturally-derived alternatives that would clean safely and effectively and Bio-D began. That is why to this day, we only use plant-based ingredients."
Bio-D's commitment to protecting the planet has seen the business win a number of awards and accreditations; it was one of the first members of Cruelty Free International, which aims to end testing on animals, and The Vegan Society. Bio-D's fragrance-free range has also been endorsed by Allergy UK. It has also achieved the ISO 14001 standard, which means it puts environmental management at the heart of what it does to achieve sustainable success and is a member of The Ellen MacArthur Foundation's global commitment on plastic, which sees businesses pledge to use an average of 25 per cent recycled content in their plastic packaging by 2025. However, Bio-D set its own higher target of 75 per cent and has already reached this, years ahead of schedule.
"We have always worked hard to ensure what our products go into are just an eco-friendly as what goes into our products. For example, we have been offering refills for more than 25 years and have pioneered the use of recycled plastic in packaging in the cleaning sector," Lloyd added. "As a team, we're really proud to be working to help protect the planet and we look forward to the next 30 years when we believe going green will become a priority for more and more of us."
Buy Bio-D from selected independents, Oxfam stores or online at www.ocado.com or  www.biodegradable.biz