Four Sigmatic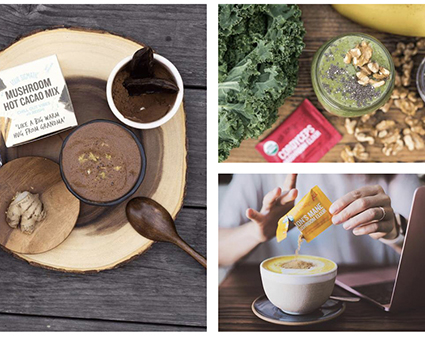 Promotion
Four Sigmatic is a company founded by group of Finnish friends in 2012. The United Kingdom was one of the first stops of the Finnish Funguys on their journey to shroomize the world.
Currently their easy-to-use and effective functional mushroom products can be found in over 2000 natural food stores in the United States. Recently they also launched their innovative mushroom coffees in Sephora stores around United States and opened their own retail space in hip Abbot Kinney street in Venice, California.
Mushroom wave from the other side of the Atlantic is also reaching the shores of the United Kingdom and you may find Four Sigmatic products for instance in Planet Organic, Whole Foods Market and As Nature Intended, along with their own website www.foursigmatic.com.
Their sortiment has functional beverages in easy-to-use powder packets. Their most popular product is Mushroom Coffee which has been raved by bloggers, podcasters and even the Osbournes in the recent years. It tastes like coffee but it has half the caffeine of a regular coffee cup and mushrooms in it lower the acidity of the coffee and bring health benefits for immunity and cognition.
Four Sigmatic uses functional mushrooms like Chaga, Reishi, Cordyceps and Lion's Mane which all have plenty of research and even up to 2000 years of proven usage. Finnish founders definitely haven't been cheap with their mushrooms as their functional Elixirs have up to 1.5 grams of dual-extracted mushrooms per packet, adaptogenic herbs filling the rest of the 3 gram packet. Chaga is known to boost your immune system as Reishi, also called the "Mushroom for Longevity" has been associated with stress-relieve and improvement of sleep. Cordyceps is a favorite of the athletes due to its support for the lungs and oxygen intake when Lion's Mane is famous for cognitive and brain supportive qualities.