Relaunch for Booja-Booja ice cream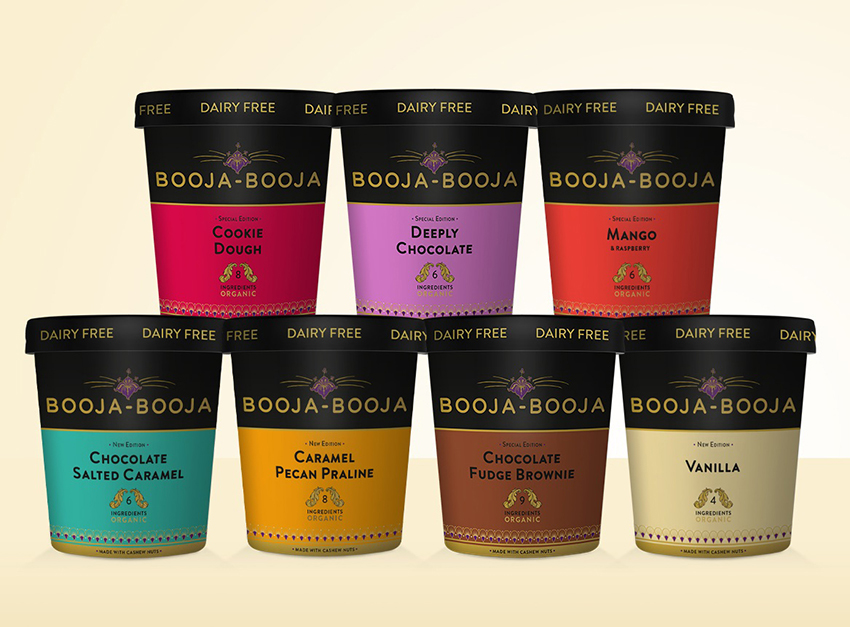 The dairy-free ice cream range at Booja-Booja has been given a makeover.
The multi award-winning producer has issued a dramatic relaunch of its dairy-free ice cream collection, with four new flavours, three recipe updates and a striking new look being launched to the trade.
The new flavours are Cookie Dough, Mango & Raspberry, Deeply Chocolate, and Chocolate Fudge Brownie, alongside new improved editions of three existing varieties, Caramel Pecan Praline, Chocolate Salted Caramel and Vanilla.
Booja-Booja Managing Director, Matt Gilding, explained: "Familiar flavours have been transformed and the new varieties are incredible. This is a whole new product, inside and out; creamier, cleaner, more sophisticated and quite simply, breathtakingly delicious. It's as good, if not actually better, than most luxury dairy ice creams. The only thing we haven't changed is the price."
Reflecting the new character and vibrancy of the range, a striking tub design features bold colours, smooth lines and ornate gold detailing. The new tubs echo the company's recently updated chocolate truffle boxes, aligning the two aspects of the brand and increasing the opportunities for cross selling between the chocolate and ice cream collections.
The ice creams are all still organic, vegan, dairy free, soya free, gluten free and kosher.
For more details visit www.boojabooja.com