Alara – Tasty without compromise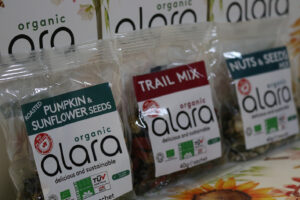 Since their beginnings Alara have been challenging themselves daily to be recognized as the most sustainable manufacturer on Earth. Their full catalogue being net zero carbon has been their latest achievement in the cereal market and they are looking now to bring their sustainability expertise to the snacks aisle.
Their in-house team of recipe developers is working on a brand new on-the-go line for those who want to have the convenience of an individual portion without treating the planet like a convenience. Like the rest of their products, these snacks will keep the best for the planet – organic, net zero carbon, plastic free – and the best for the body – no added sugar, suitable for vegans, no GMO ingredients, gluten free options – without compromising the pocket.
With this new line Alara is looking to add a new "first" to their long list: being the first brand in the world to launch organic, plastic free and net zero carbon single-serve portions. The company have not confirmed yet the final recipes but according to their latest announcement, chances are that seeds and nuts will be the main focus of these new products. It is expected that their official launch will take place at Natural Products Europe, the next show Alara will be exhibiting next April.
Organic Alara, delicious and sustainable. Tasty without compromise. Net zero carbon. Soon also portable, to enjoy on the go.
To discover more, please visit – https://alara.co.uk/