Introducing Bio360™ Microbiotics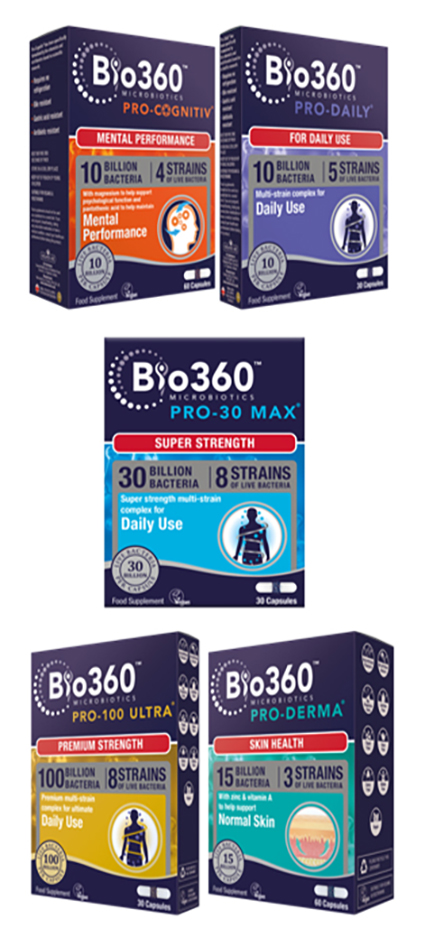 Natures Aid are delighted to introduce our new Microbiotics brand, Bio360™.
At Bio360™, we believe that a balanced microbiome is the first step to complete wellbeing. Our personalised approach harnesses specific good bacteria strains, supported by beneficial nutrients, to target specific goals.
Our thoroughly researched and precisely targeted formulae have been developed by our industry-leading nutritionists, to support complete, 360 wellbeing. Each probiotic strain chosen has proven bile and acid resistance, proven colonisation of the GI tract after oral supplementation, and proven stability at room-temperature, meaning that refrigeration is not required. We are proud to manufacture to the highest quality GMP & pharmaceutical Standards.
In addition to everyday, super, and premium strength daily microbiotics, the Bio360 range includes products carefully designed to support:
• Immune health
• Skin health
• Mood, memory, and mental performance
• Female intimate health
• Digestive health
And a children's microbiotic.
Bio360™ is supported by a comprehensive range of POS, including posters, display units and educational literature. We also offer our retailers a range of professional literature, along with in-house support from our expert nutritionists and dedicated customer care team.
Bio360™ will be supported nationally with a full campaign programme, with multi-channel activations including social, influencers and PR.
For more information email: sales@naturesaid.co.uk