Lucy Bee wins Gold and Silver at the 2019 Free From Skincare Awards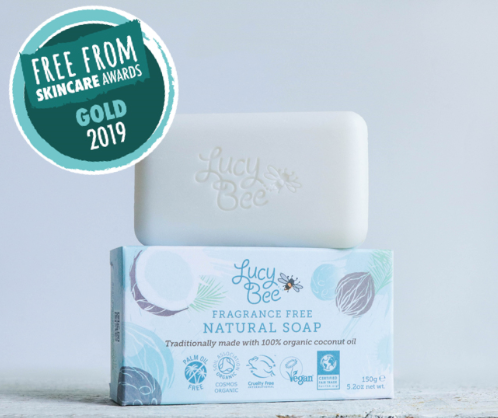 Promotion
Lucy Bee wins Gold and Silver in the 'Hard Soaps' category at the 2019 Free From Skincare Awards for the Fragrance Free bar and the Exfoliating Bar respectively.
The awards were founded to encourage and reward manufacturers of skincare products that are 'free from' many of the allergens, chemicals, additives and fragrances associated with skin sensitivities, allergies and ethical, environmental and health concerns.
It was a long judging process which included a rigorous month-long assessment by four experienced skincare testers, and concluded with week-long expert judging sessions.
Soap is traditionally made by saponification which is a chemical reaction between two natural ingredients. This is the way Lucy Bee creates their soap bars which are made in the UK using 100% of their own organic, raw Fair Trade Lucy Bee Coconut Oil. Lucy Bee use natural ingredients and unlike many other soaps, do not use palm oil, sodium lauryl sulfate (SLS), sulphates (SLES), artificial fragrances and dyes, preservatives and petroleum, all of which are often found in other soap bars.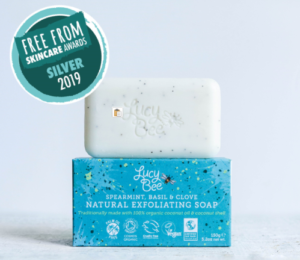 The range has been certified by some of the most respected certification bodies – Soil Association (COSMOS Organic), Fair Trade (FairTSA), Vegan Society and Cruelty Free International. It has also been awarded the #1 Best Buy by the Ethical Consumer Guide. Their ratings take into account things like animal testing, human rights, climate change, environmental reporting, palm oil, company ethos, product sustainability, amongst many other factors.