Suma Launch to tie in with Organic September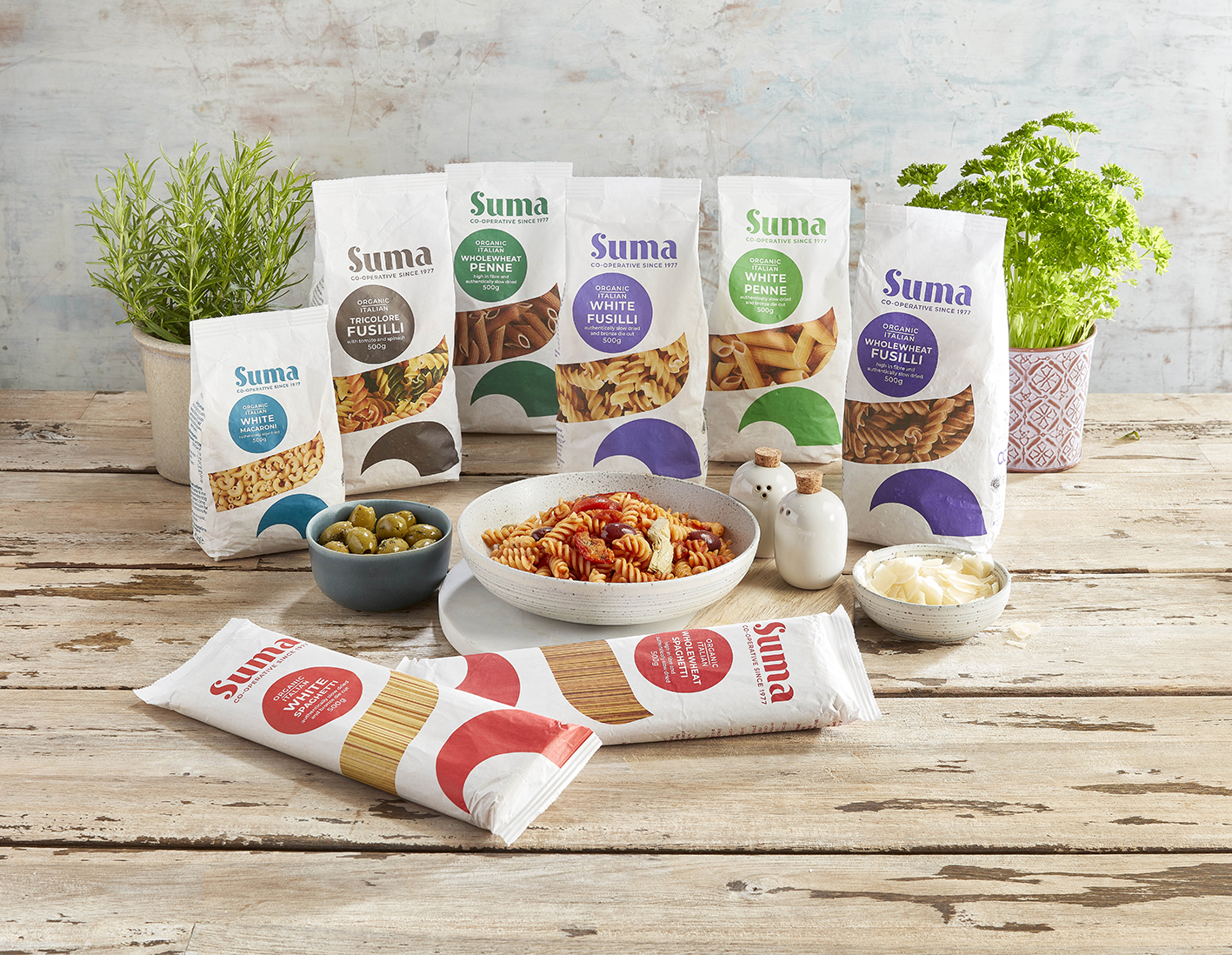 Launched to tie in with Organic September, Suma's Italian organic wheat pasta is now packaged in biodegradable and recyclable paper sourced from sustainably managed forests. It's 100% plastic-free and printed with water-based ink and heat-sealing lacquers without the use of solvents. The organic Italian wheat is grown in the Marche region of Eastern Italy, ground in the co-operative's own mill, mixed with local hillside spring water and made into pasta on site.
It's grown and produced by a co-operative of organic farmers in Italy championing ancient wheat varieties that can adapt to challenging climates. Their co-operative operates an integrated organic supply chain from seed to finished product. They promote more sustainable agricultural development to support soil fertility and fight hydro-geological instability, such as rotating crops over a longer period and planting crops that better nourish the ground.
The co-operative is accredited by the World Fairtrade Organisation, which supports farmers by paying above the market rates. The co-operative is compliant with the WTFO Fair Trade Standard, confirming they are a mission-led enterprise putting people and planet first.
The pasta is made by the traditional bronze die process to create a porous, rough surface – perfect for absorbing your sauce of choice. Most pasta is made with a Teflon die, creating a slick and smooth surface which repels flavour! It's then slow-dried to preserve the nutrients and bring out the taste. The whole process uses 100% renewable energy.
It's available in penne (white and wholewheat), macaroni (white only), spaghetti (white and wholewheat) and fusilli (white, wholewheat and tricolore). £1.89 RRP ( £2.25 tricolore)
We are Suma
Suma is a little bit different. We're an equal pay wholefood collective founded in 1977 by a liberally-minded group of people who believed there was a better way to do business, and actively set out to create it.
Today we are stronger than ever. We stock a range of 2000 of our own sustainable and ethical products and deliver over 7000 vegan and vegetarian, natural, responsibly sourced products to businesses and communities across the UK and internationally. We are one of the largest co-operatives of our kind in Europe, working together and bound by seven cooperative principles which aim to improve our society and support our suppliers and customers.
Doing a little bit of good, and hoping for a little bit of change.