The Power of Personalisation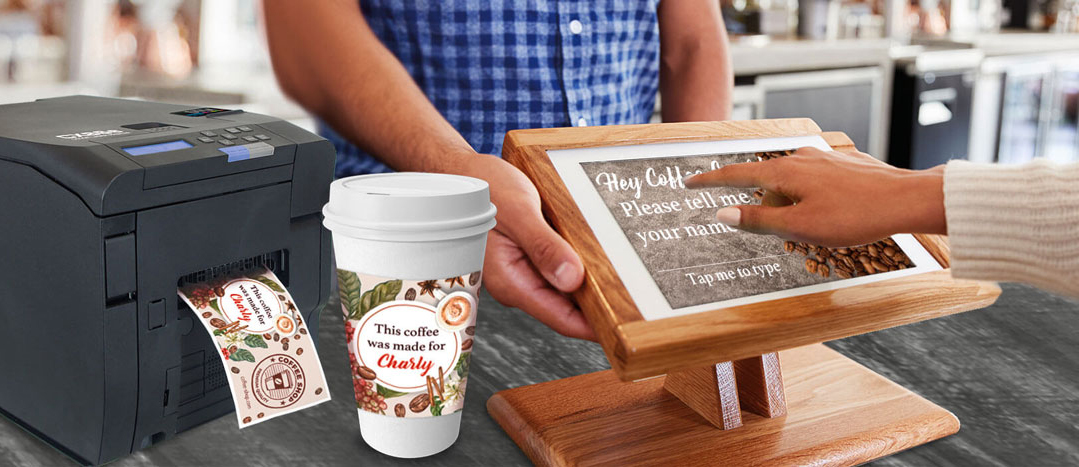 Introducing DTM Print's invaluable label printing system for POS applications
According to the Oxford Dictionary "to personalise" means to "make (something) identifiable as belonging to a particular person." However as simple as the description behind this concept may sound, the implementation is very diverse especially when it comes to product personalisation. The ever-growing desire for exclusivity through uniqueness is a market development that encompasses many industries including cosmetics, food, drinks and hospitality.
Probably the easiest way to make a product more special, more unique, is by personalising its label. Either by offering a selection of name variations, different colour and design templates, personalised messages or by including individual photos. The possibilities are almost endless.
Businesses can use an on-demand printing solution, which allows customers to personalise a product with a label that contains a photo or individual text before having it printed live at the point-of-sale (POS) to take away. The main advantage of such POS live printing solutions is exactly that it doesn't take days or even weeks until the customer receives the personalised product.
First Step: The Printer
Since space in stores is limited and expensive the required space for such in-store solutions must be as small as possible. DTM Print, international OEM and solution provider for specialty printing systems, offers a wide range of label printers for a fast and flexible on-demand personalised label production including the DTM CX86e Colour Tag Printer.
Meeting the requirement for a compact solution suitable to place at any POS the DTM CX86e is the logical choice with a footprint of just 20 x 38 cm and a height of 19.5 cm. This printer is the world's smallest LED dry toner label printer and is therefore perfect to produce versatile and professional colour labels and tags directly at your POS. The DTM CX86e uses the latest digital LED technology. Meaning the produced labels are pin sharp, waterproof and UV-resistant.
Because of its small size and low weight (9.5 kg) the printer can be used almost anywhere and is easy to transport. If placed in a store, restaurant or hotel reception desk, it can print full-colour labels, ID tags with photos, entry tickets, visitor badges or wristbands, value-added receipts, price and promotion stickers, coupons and vouchers featuring special promotions or labels with a personal message directly at any POS and on-demand.
Another aspect to keep in mind: a possible downtime of the printing hardware (e.g. during cartridge changes) should be as minimal as possible. Nothing is more frustrating for customers than having to wait for their individual label longer than planned. Therefore, special attention was paid to a simple operation, which should be intuitively and fast not only for the customer when printing the personalised label but also for the staff maintaining the printer or replacing consumables without great effort.
Second Step: The Label Material
There is a vast variety of label materials available. The texture, feel, look and functionality should correspond with the purpose the label fulfils. Depending on the application the label for example has to be water- or UV-resistant, has to convey a natural and organic feel, has to be thicker (e.g. for name tags or tickets). Hence, choosing the right label material is supporting the message of the product.
To guarantee the best print results DTM Print recommends its Genuine DTM Dry Toner Label Stock. A wide range of approved matte, semi-gloss and high-gloss materials are available, allowing product owners to precisely match their substrate requirements. DTM Print has many standard sizes available and any material is available as custom made size.
The DTM CX86e is a powerful and cost-effective printer for POS applications that enables businesses to produce versatile and professional colour labels and tags that maximize advertising impact to attract the customers' attention and to ensure higher sales.
For more information about the DTM CX86e contact DTM Print through the online contact form or send an e-mail to sales@dtm-print.eu.