Vegan pizza brand adds gluten free to credentials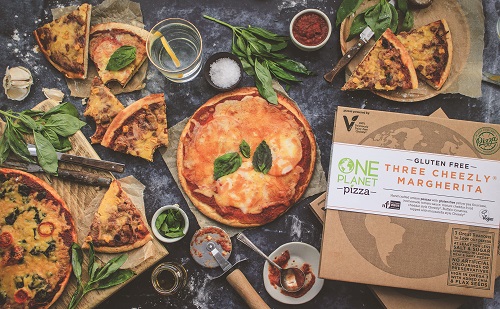 One Planet Pizza has announced the launch of its heavily anticipated Gluten Free Three Cheezly Margherita.
The multi-award winning vegan frozen pizza company has used its new gluten free base, melty vegan cheese topping, alongside the classic homemade pizza sauce and buffalo tomatoes to create the new addition.
After months of searching for the ultimate gluten free recipe, One Planet Pizza is certain that free from customers will be delighted with the high quality, fluffy textured base the team has managed to secure. They worked with free from experts from Lab Pizza, which created a hand-stretched, artisan base.
One Planet Pizza co-founder, Joe Hill, half of the father and son team behind the Norwich-based vegan brand, commented: "We truly care about our customers and see them more as part of our team, that's why we've always wanted to create a free from pizza, to make sure that nobody has to miss out on some seriously cheezy goodness! We've been working behind the scenes for some time now (as you could tell from following our socials) and we're incredibly excited for everyone to taste this new pizza, which is an absolute game changer – you won't believe it's gluten-free!"