Weleda praised for sustainability efforts in new report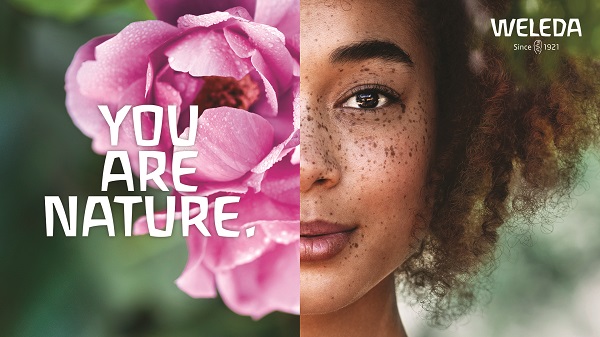 A new report shining a light on initiatives inspiring and influencing consumer attitudes towards biodiversity and sustainability has singled Weleda out for praise.
The Positive Luxury Predictions Report 2020 explores the loss of biodiversity, with input from thought leaders and case studies on sustainability in the luxury industry.
Weleda's new YOU ARE NATURE campaign is highlighted as an example of how a beauty brand can connect with the consumer to inspire change. Weleda also features in a further three-page Q&A interview with Ann Driessens, the company's Head of Global Marketing, about Weleda's new UEBT Sourcing with Respect certification and its significance for both consumer and company.
"As a brand, Weleda wants to reconnect people with nature and celebrate that we too are nature. Those values have never been as relevant to consumers as in today's world where we are most of the time disconnected from nature," Driessens commented.
The new 78-page report was launched at Davos at the World Economic Forum annual meeting, Stakeholders for a Cohesive and Sustainable World.
Positive Luxury is the organisation behind the Butterfly Mark, awarded to luxury brands and businesses in recognition of their commitment to creating a positive impact on both people and planet.
In other Weleda news, the company is championing the protection of orangutans threatened with extinction. In order to help these primates and to protect local biodiversity, Weleda is joining forces with the non-profit organisaton, Borneo Orangutan Survival (BOS). The project will run for 20 months initially, supported by Weleda with a contribution of 100,000 Euros. An important aspect both for BOS and Weleda is to take account of and to support all aspects of sustainability (ecological, social and economic) with this aid project in the Mawas area.
The focal point for the BOS and Weleda project is the village of Mantangai Hulu, with around 2,000 inhabitants, south of Mawas. Plans are drawn up to enable the population to develop sustainable sources of income so that the local community can live and work in harmony with nature in an economically and legally secure manner.
As well as being a member of the RSPO, Weleda is also a member of the Forum for Sustainable Palm Oil (FONAP), an association established in 2013 to raise certification standards for sustainable palm oil still further. As of 2015, Weleda has taken a very active role in the FONAP Steering Committee.